As a used guitar seller I've found I end up looking for guitars I like myself more than anything else. Gibson's Joan Jett Melody Maker definitely qualifies. Since I came across one a couple years ago, it's become my main axe. Why? I love the pickup; it's very lightweight; the ebony fretboard is great; and the thin worn finish is actually pretty sweet. Gibson introduced the Melody Maker back in the day as a cheap student guitar. But they caught on with serious players, including one Ms Joan Jett. Gibson couldn't 100% re-create her guitar with this re-issue. Jett's guitar was modified with a Red Rhodes Velvet Hammer pickup, which aren't around anymore, so they substituted the Gibson Burstbucker 3. It's based on early PAF humbuckers with a modern twist of slightly overwound coils for more punch.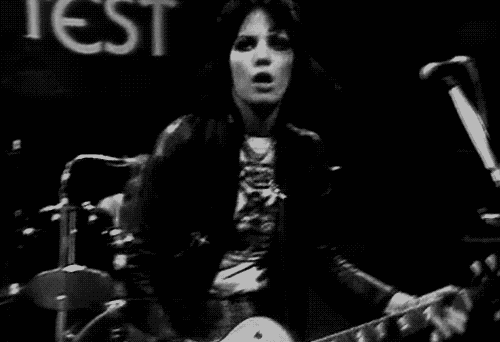 Also, they couldn't re-create the mish-mosh of stickers she plastered all over hers, but I guess we can forgive that. At least they got the major stuff right. Such as the very thin, light and resonant double cutaway mahogany body and the simple rock and roll one pickup setup with volume/tone and kill switch. (I guess Joan liked the kill switch for all the breaks in her songs calling for audience clapping, singing, etc.) I've heard lots of people saying they switched out the pickup. Me? I love it. It's very high output and very warm. For me it beats out the 500T pickup in my Gibson SG-X by a hair because I like the little added warmth. Both provide a wall of distortion and decent clarity.
If you're like me, you might not know much about ebony fretboards. Once you get your hands on one, you'll probably like it. I do. People say they tend to have little issues with temperature changes, such as expanding and contracting, but it feels great. The neck has a rounded profile, probably more suitable to rhythm players and power chords than lead shredding. These come outfitted with mini Grovers that do a decent job, but I thought it was worth throwing on some Planet Waves locking tuners, as well as a bridge with roller saddles. Other than that, not much I'd change, except perhaps changing the kill switch to a pickup splitter, but that can wait.
Many of the factory reliced guitars look like crap, but Gibson did a tasteful job on this one and the light coat of nitro finish means these will continue to relic quickly the more you play them. It also means there aren't 10 layers of finish impeding the guitar's resonance (or that's what the smart guys say anyway). After the initial release of the worn white version, Gibson released a "Blackheart" model with a black non-reliced satin finish. It does not have the same mojo as the white, and the black/white zebra pickup looks lame. The red dots and 12th fret hearts look ok….but nah, just get a white one. These come with a nice Gibson hard case. Expect to pay around a grand used, as they're out of production and a lot of people like them. Take it from me, you don't need to be a Joan Jett fan to love this guitar.